K92 Intersects High Grade Gold In Multiple Drill Holes At Irumafimpa
Intercepts include:
8.2m at 24.65 g/t AuEq plus 3.2m at 4.77 g/t AuEq in hole GCDD0074
4m at 60.57 g/t AuEq, including 1m at 77.99 g/t AuEq and 1m @ 95.30 g/t AuEq, plus 0.3m at 14.49 g/t AuEq in hole GCDD0071
*see Table 1 for full details on drill holes
K92 Mining Inc. ("K92") (TSXV – KNT) is pleased to announce recent results from 11 diamond drill holes completed in the ongoing underground grade control drilling program at its high grade Kainantu Gold Mine.
A number of these latest results are particularly important as they show wide high grade intersections less than 20 metres from the drill cuddy.
Ian Stalker, K92 Chief Executive Officer and Director, states, "The latest grade control drilling results include some of the widest that we have seen to date at Irumafimpa, with 8.2 metres at 24.65 g/t AuEq recorded in hole GCDD0074 and 4 metres at 60.57 g/t AuEq recorded in hole GCDD0071. Importantly in both places these intersections commence less than 20 metres from the drill cuddy."
Table 1 and 2 below provides a summary of the results from eleven diamond grade control which have been drilled into stope areas. Table 1 provides a summary of the significant intercepts from the holes, while Table 2 provides details of collar location and hole orientation.
TABLE 1 KAINANTU GOLD MINE – SIGNIFICANT INTERCEPTS FROM IRUMAFIMPA GRADE CONTROL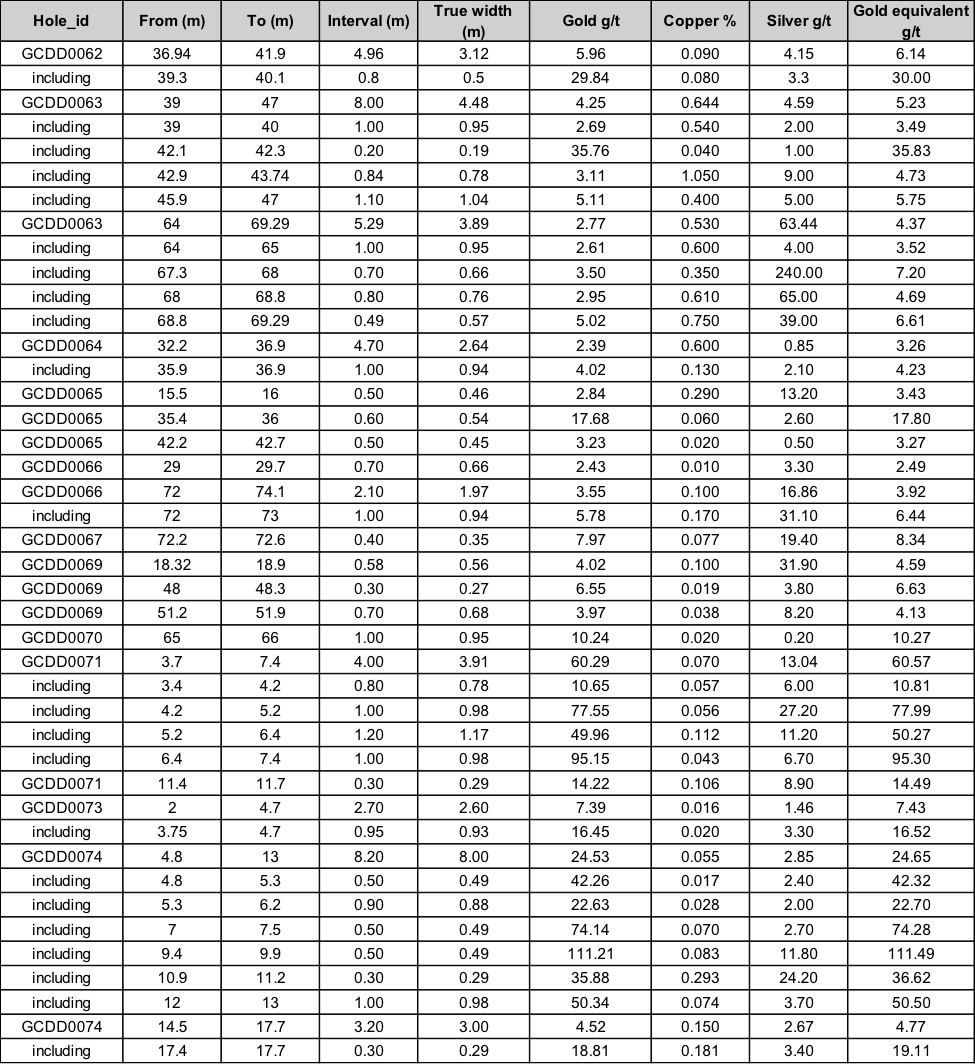 Notes
Gold Equivalent uses Copper price – US$2.50/lb; Silver price US$16/oz and Gold price of US$1200/oz
TABLE 2 KAINANTU GOLD MINE – COLLAR LOCATIONS FOR IRUMAFIMPA GRADE CONTROL DRILLING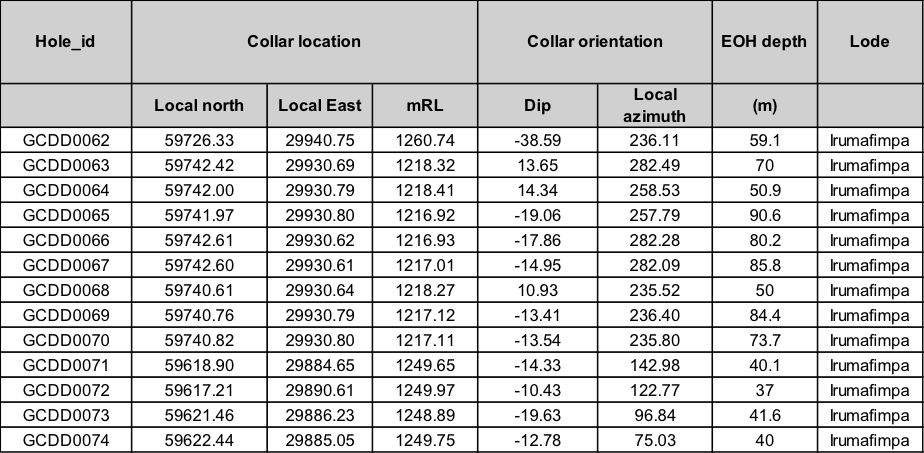 K92 Geology Manager, Andrew Kohler, P.Geo, a qualified person under the meaning of Canadian National Instrument 43-101, has reviewed and is responsible for the technical content of this news release.
ON BEHALF OF THE COMPANY,
Ian Stalker
Chief Executive Officer and Director
Neither the TSX Venture Exchange nor its regulation services provider (as that term is defined in the policies of the TSX Venture Exchange) accepts responsibility for the adequacy or accuracy of this release.
CAUTIONARY STATEMENT REGARDING FORWARD-LOOKING INFORMATION: This news release includes certain "forward-looking statements" under applicable Canadian securities legislation. Forward-looking statements are necessarily based upon a number of estimates and assumptions that, while considered reasonable, are subject to known and unknown risks, uncertainties, and other factors which may cause the actual results and future events to differ materially from those expressed or implied by such forward-looking statements. All statements that address future plans, production, activities, events or developments that the Company believes, expects or anticipates will or may occur are forward-looking information, including statements regarding potential ongoing production which may or may not occur and the generation of further production assessment work at deposits, which may or may not occur. While commercial production is targeted, there is no assurance it will be achieved. Forward-looking statements and information contained herein are based on certain factors and assumptions regarding, among other things, the market price of the Company's securities, metal prices, taxation, the estimation, timing and amount of future exploration and development, capital and operating costs, the availability of financing, the receipt of regulatory approvals, environmental risks, title disputes, failure of plant, equipment or processes to operate as anticipated, accidents, labour disputes, claims and limitations on insurance coverage and other risks of the mining industry, changes in national and local government regulation of mining operations, and regulations and other matters. There can be no assurance that such statements will prove to be accurate, as actual results and future events could differ materially from those anticipated in such statements. Accordingly, readers should not place undue reliance on forward-looking statements. The Company disclaims any intention or obligation to update or revise any forward-looking statements, whether as a result of new information, future events or otherwise, except as required by law.