K92 Production Ramps Up And Exploration Drilling To Commence To Follow Up On Kora Extension Discovery Hole
Stope production achieved from the Irumafimpa deposit
450 tonnes of gold copper concentrates shipped during July with another 250 tonnes of gold copper concentrates sent to port and available for shipment
extensive program of diamond drilling to commence early August from underground set ups along Kora Drive, designed to follow up on Kora extension discovery hole
Continued regional exploration at the Pomasi Project adjacent to the Mining Lease (ML150) on EL 693 and 470 with multiple high grade values returned and multiple veins identified, including an interpreted extension to the Irumafimpa vein system
K92 Mining Inc. ("K92") continues to ramp up production at the Irumfimpa Mine, is about to commence exploration drilling from underground set-ups to follow up on the recent Kora extension discovery hole, is preparing to mine and test a 2,000 tonne bulk sample from Kora and continues regional exploration on the Pomasi Project.
IRUMAFIMPA
K92 has, up until recently, been mining from development areas. Now, K92 is also mining from production stopes where higher gold and copper grades are anticipated.
Long hole stope production has commenced from the newly developed 1235mRL to 1250mRL stope area. It is anticipated that the commencement of this new stope production, combined with ongoing production from development and remnant stopes will allow commercial production to be achieved in September.
Additionally, extraction of material from planned stopes 1205S, 1220S and 1235S, which were awaiting geotechnical input from independent consultants to finalise the design and extraction schedules (as per K92 News Release, May 16, 2017) is scheduled to commence in the coming quarter. Extraction in this area will apply a combination of long hole stoping and flatbacking (cut & fill) depending on access and geotechnical considerations.
Development above the 1250 mRL is planned in the current quarter which is anticipated to provide development feed to the mill from the 1250 and 1265 mRL levels with commencement of stoping from these levels in the Q4 2017.
Further, grade control drilling has identified additional stoping material below the previously planned lower limit of 1205 mRL and planning is underway to commence accessing this area in the Q4 2017. Further grade control drilling is also planned in this area as the limits to the down dip extension of the mineralization has yet to be determined.
To date, approximately 7,000 metres of grade control drilling has now been completed at Irumafimpa, which means the company has grade control drilling for the next 3 months of production. Continuing with grade control drilling and staying ahead of production is key within K92's strategy of efficiently mining Irumafimpa.
KORA
Based on the recent high grade discovery of the Kora Deposit extension, the design of the Kora Exploration Drive has been enhanced to incorporate the development of a footwall drive approximately 50 metres from the projected strike of the Kora Vein System as shown in Figure 1. This modification allows the development of drill cuddies approximately 100 metres closer to the interpreted position of the Kora Vein System than previously planned, based on the results from diamond drill hole KMDD0009 which recorded an intersection of 5.4 metres @ 11.68 g/t Au, 25.5 g/t Ag and 1.33 % Cu from 154 metres downhole, interpreted to be the discovery of an extension of the Kora deposit (see K92 News Release May 24, 2017 for drill result details).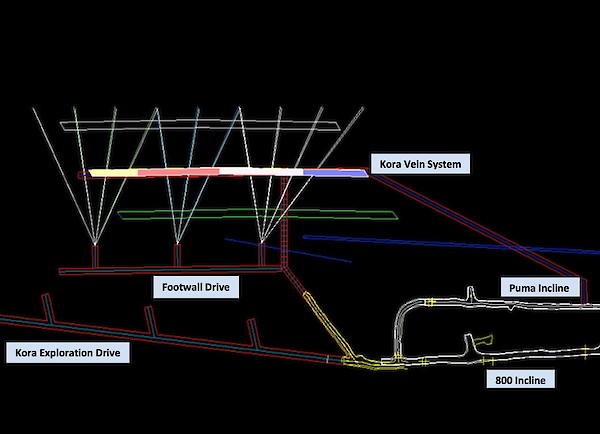 Figure 1: Kora Development
In addition to providing set ups for exploration drilling, this development will allow a bulk sample (~2,000 tonnes) of the Kora deposit to be mined as early as September 2017 for testing and evaluation purposes.
A total of approximately 120 metres of development of the Kora Exploration Drive, access drive and footwall drive was completed during July. The first drill cuddy in the footwall drive will be completed in early August and drilling is planned to commence from this cuddy immediately following its completion. The company has also arranged the mobilization of a third more powerful underground diamond drilling rig from its contractor which is expected on site in September. This rig will allow holes of up to 900 metres to be drilled from underground, targeting rapid execution of the company's planned exploration and expansion work.
Additional to the work underground, K92 is also in the process of re-logging core from drilling at Kora conducted by previous operators. Of note, in the re-logging to-date, are high grade intercepts previously unreported by K92 such as diamond drill hole 080BD04 with 0.3 metres @ 15,350 g/t Au (1.5%) from 50.7 metres (no top cut) and BKDD0015 with 0.3 metres @ 6,380 g/t Au and from 62.4 metres (no top cut). Re-logging of the Kora core will assist and guide K92 as it embarks on more aggressive Kora exploration and expansion drilling in the coming weeks and months.
K92 has filed and made available for download on the Company's SEDAR profile, a technical report titled "Independent Technical Report, Mineral Resource Update and Preliminary Economic Assessment ("PEA") of Irumafimpa and Kora Gold Deposits, Kainantu Project, Papua New Guinea" with an effective date of March 2, 2017 (the "Technical Report").
The PEA estimates for Kora, based on the current Inferred resource , estimates (4.36 million tonnes of 7.3 g/t Au, 35 g/t Ag and 2.23% Cu);
Over a 9 year operating life the plant would treat 3.2 million Inferred tonnes averaging 7.1 g/t Au, 25 g/t Ag and 1.7% Cu (9.3 g/t AuEq*)
this would generate an estimated positive cash flow of US $537 million using current metal prices if 15m levels are used in mining. If 25m levels are used then net cashflows are estimated as US $558 million. This cashflow includes conceptual allowances for capital
production of an estimated average of 108,000 AuEq* ozs per annum over an 8 year period from Year 2 through to Year 9
An estimated pre-tax NPV of US $415 million for 25m levels; or US $397 million for 15m levels; using current metal prices, exchange rates and a 5% discount
an estimated after-tax NPV of US $329 million for 25m levels; or US $316 million for 15m levels; using current metal prices, exchange rates and a 5% discount
initial capital cost is estimated to be US $13.8 million, including the US $3.3 million for the plant upgrade identified in the Mincore Scoping Study but excluding the proposed Kora exploration inclines and diamond drilling. Sustaining Capital Cost is estimated to a further US $64 million spent over the life of the Kora mining for 25m levels or US $83 million for 15m levels
operating cost per tonne is estimated to be US $125/tonne for 25m levels or US $126 / tonne for 15m mining levels
excluding initial capital expenditure of US $14 million, cash cost is estimated to be US $547 / oz AuEq (inclusive of a 2.5% NSR) and AISC of US $619/oz AuEq for 25m mining levels; or US $549/oz (inclusive of a 2.5% NSR) and AISC of US $644/oz AuEq for 15m mining levels
Metal prices used were Au – $1300/oz; Ag – US $18/oz; Cu – US $4800/tonne
*AuEq calculated on above metal prices
Kora remains open for expansion in every direction and strongly mineralized at the extent of all drilling.
The PEA is preliminary in nature and includes inferred mineral resources that are considered too speculative geologically to have the economic considerations applied to them that would enable them to be categorized as mineral reserves, and there is no certainty that the PEA will be realized. The Technical Report contains a full description of all underlying assumptions relating to the PEA. Mineral Resources that are not Mineral Reserves do not have demonstrated economic viability.
REGIONAL EXPLORATION
Exploration outside of ML 150 is currently focused on the Pomasi Project area adjacent to the Mining Lease (ML150) on EL 693 and EL 470 with work moving from Pomasi Area 1 to Pomasi Area 2, see Figure 2 below.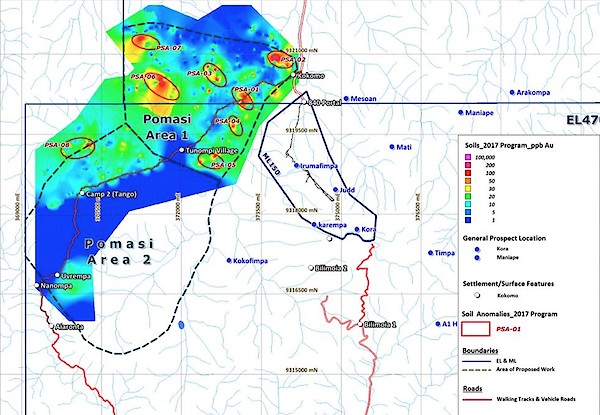 Figure 2 Contoured points – Au. Pomasi Areas 1 and 2, with respect to ML150 and known deposits/prospects. Sample points are contoured by Au ppb values.
The work has included:
Prospecting, sampling, mapping and assessment of the mineralised veins;
Mapping of the geology within the drainage systems and surface exposures, and linking them with the prospected veins;
Conducting a ridge and spur soil sample survey for indications of anomalous geochemical dispersion from the auriferous veins across a select number of ridges and spurs;
Trenching along the length of identified veins to establish widths, grades and strike extent
To date results have included multiple high grade values (previously reported) and the identification of multiple high grade veins including an interpreted extension to the Irumafimpa vein system. These results have also identified a number of gold and copper targets from soil sampling analysis, which will be followed up in the next phase of work.
The Company plans to fly a detailed aerial geophysics program over its Mining and Exploration Leases. While limited aerial geophysics has previously been undertaken in 1982 and again in 2008, K92 and its consultants have evaluated the data and found it to be of generally poor quality with very limited ground penetration. This survey is considered as an essential tool for the identification of extensions to existing deposits as well as better defining existing vein and porphyry targets and identifying potential new targets.
Ian Stalker, K92 Chief Executive Officer and Director, states,
Moving from mining development material into stope material is a major positive for our Irumafimpa mining operation. With mining and processing going well and with the production ramp up progressing, shareholders can also look forward to the commencement of exploration drilling to follow up on the recent Kora extension discovery hole. The combination of production alongside of exploration targeting high impact expansion and discovery will provide significant news flow in the coming weeks and months."
ON BEHALF OF THE COMPANY,
Ian Stalker
Chief Executive Officer and Director
K92 Exploration Manager, Chris Muller, P Geo, a qualified person under the meaning of Canadian National Instrument 43-101, has reviewed and is responsible for the technical content of this news release. Mr. Muller has spent significant time onsite reviewing drill core, surface exposures, underground workings and discussing work programs and results with exploration personnel.
Neither the TSX Venture Exchange nor its Regulation Services Provider (as that term is defined in the policies of the TSXV) accepts responsibility for the adequacy or accuracy of this release.
CAUTIONARY STATEMENT REGARDING FORWARD-LOOKING INFORMATION: This news release includes certain "forward-looking statements" under applicable Canadian securities legislation. Forward-looking statements are necessarily based upon a number of estimates and assumptions that, while considered reasonable, are subject to known and unknown risks, uncertainties, and other factors which may cause the actual results and future events to differ materially from those expressed or implied by such forward-looking statements. All statements that address future plans, activities, events or developments that the Company believes, expects or anticipates will or may occur are forward-looking information, including statements regarding the realization of the preliminary economic analysis for the Project, expectations of future cash flows, the proposed plant expansion, potential expansion of resources and the generation of further drilling results which may or may not occur. Forward-looking statements and information contained herein are based on certain factors and assumptions regarding, among other things, the market price of the Company's securities, metal prices, exchange rates, taxation, the estimation, timing and amount of future exploration and development, capital and operating costs, the availability of financing, the receipt of regulatory approvals, environmental risks, title disputes, failure of plant, equipment or processes to operate as anticipated, accidents, labour disputes, claims and limitations on insurance coverage and other risks of the mining industry, changes in national and local government regulation of mining operations, and regulations and other matters.. There can be no assurance that such statements will prove to be accurate, as actual results and future events could differ materially from those anticipated in such statements. Accordingly, readers should not place undue reliance on forward-looking statements. The Company disclaims any intention or obligation to update or revise any forward-looking statements, whether as a result of new information, future events or otherwise, except as required by law.